Tooth Extractions – Annapolis, MD
Removing Teeth That Could Harm Your Smile
Tooth extraction doesn't have to be a stressful experience. Unfortunately, sometimes it's the best course of treatment, but thanks to our caring team, we'll be able to handle tooth extractions in our Annapolis, MD dental office with a soft touch.
Why Choose Chambers Family Dentistry for Tooth Extractions?
Options for Relaxing with Sedation Dentistry
Same-Day Emergency Appointments for Dental Emergencies
Dental Implant Treatment Completed In-House
Tooth Extraction Process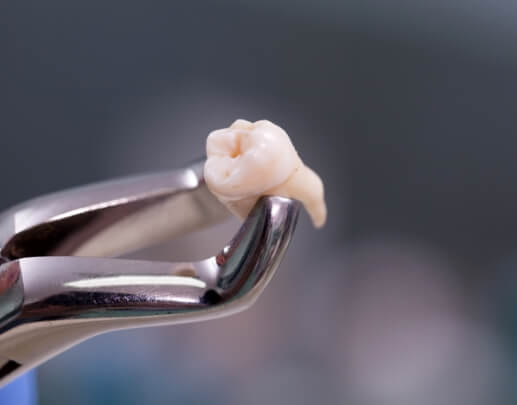 We'll start by thoroughly numbing the area with a local anesthetic. We'll also offer you a couple of sedation options to help you relax even more if you need it (don't be afraid to ask, we won't judge!). Then, your doctor will slowly rock the tooth back and forth. We never literally pull teeth straight out…that's a ticket to pain for both the patient AND the doctor! We'll slowly move it so that it slips out on its own. Most of the time, our patients don't actually notice when the tooth comes out.
Tooth Extraction Frequently Asked Questions
For many, the idea of having a tooth extracted can cause anxiety or uncertainty. At Chambers Family Dentistry, our goal is to inform you to the fullest extent and take all the necessary steps to make you feel comfortable the moment you walk into our dental office. Below, we've included a few of the most common questions patients have regarding tooth extractions and answered them in detail for your convenience. If you need additional guidance or would prefer to speak with us in person, feel free to let us know.
Is There an Alternative to a Tooth Extraction?
It's true that many tooth replacement options, especially dental implants, look and feel lifelike as well as last a very long time. However, saving your natural teeth is always our top priority. For that reason, our team may recommend root canal therapy instead if your tooth has developed extensive decay but can still be salvaged. If there is gum disease present, scaling and root planing could help restore your oral health and prevent the infection from spreading. If we are recommending an extraction, it's only because we considered all other solutions first. We're happy to explain our reasoning in great detail so you can feel comfortable and informed, not pressured into accepting treatment you don't want.
How Should I Prepare for My Tooth Extraction?
It's just as important to prepare for your extraction before it happens, not just afterward. That's why we recommend that you come with questions ready to ask if you have them. Our dentists are more than ready to break down how to dress comfortably, what you should avoid the morning of the extraction, and other tips for a smooth appointment. Follow these instructions closely and you'll be much better off. Additionally, it helps to stick to drinking just water just before your procedure as well as having your prescription medication ready to pick up afterward. If you plan to receive sedation dentistry, speak with a friend or family member so they can drive you to and from our dental office (this only applies if you plan to receive oral conscious sedation).
What's the Recovery for Tooth Extractions Like?
Following your tooth extraction, you'll want to take note of the best steps for a smooth recovery. For example, set aside time to rest as this is the most important step to taking care of your smile after surgery. The more you take care of the blood clot that's formed over your open socket, the better. Neglecting it increases the risk of it loosening, falling off, and triggering major discomfort. This is a condition known as dry socket and can be prevented by avoiding the use of straws and never spitting with force as you recover. While the length of time needed can vary, you should start to feel substantially better after about three days.
Can I Leave the Space Empty After a Tooth Extraction?
Many patients assume that if a tooth in the back of the mouth is removed, they don't need to replace it since it's not visible. However, just because your gap isn't visible doesn't mean changes won't develop within your smile. When you have missing teeth, you aren't able to chew as effectively or say certain words with as much clarity. Even just a single missing tooth (especially when it's a molar) can negatively impact your digestive process and ability to eat certain foods. As soon as you are done healing, we recommend scheduling an appointment with our dental office to discuss your tooth replacement options.