SureSmile Clear Braces – Annapolis, MD
Straighten Your Teeth Without Cumbersome Brackets & Wires
Do you have crowded and misaligned teeth that make you embarrassed to show off your smile? You don't have to sacrifice your comfort and professional appearance to straighten your teeth anymore. With SureSmile clear braces, your cosmetic dentist can develop a customized timeline to gently shift your teeth into their ideal positions and transform your grin into something you can be proud of. Whether you're a teenager or an adult, this modern orthodontic solution will allow you to continue making great impressions on your friends and coworkers because the aligners are practically invisible. To find out more about SureSmile clear braces in our Annapolis, MD dental office, visit Chambers Family Dentistry for a consultation today!
Why Choose Chambers Family Dentistry for SureSmile Clear Braces?
Mess-Free Digital Impression Technology
We See Patients of All Ages
Privately-Owned, Insurance-Friendly Dental Office
How Does SureSmile Work?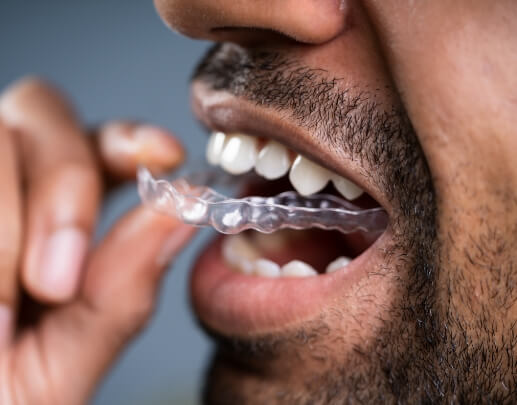 SureSmile uses custom-crafted clear aligners to strategically straighten your teeth. Not only are the trays thin, but they're also made from smooth plastic and carefully formed to comfortably fit over your teeth without rubbing or scratching your gums and oral tissues. Using a gentle amount of force, the trays will target areas of your mouth where your teeth are misaligned, crowded, or gapped.
Because each patient's mouth is unique, every person's treatment plan varies. However, the average timeline typically lasts between eight and 14 months, depending on the severity of the orthodontic issues that need to be fixed. With traditional metal braces, patients may need to wear them for up to three years. Their cumbersome look and feel can make it practically impossible to maintain a professional image in your workplace. SureSmile aligners are nearly unnoticeable, allowing you to wear them without anybody fixating on anything other than your beautiful smile!
What Are the Benefits of SureSmile?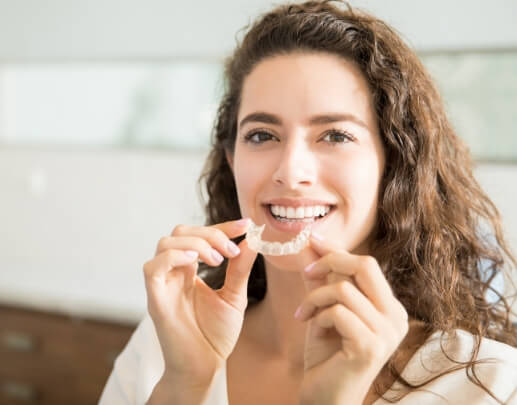 SureSmile treatment is so popular among patients looking to straighten their teeth because they have a variety of benefits that metal braces don't. Besides being completely discreet, aligners offer:
More comfort – Brackets and wires can be uncomfortable and cause irritation. Conversely, SureSmile aligners are smooth, making them less likely to irritate the soft tissues in your mouth.
Greater convenience – Because you can remove your aligners, you'll be able to brush and floss with ease and eat all the foods you normally would.
A custom fit – Each treatment is custom-tailored to fix your unique orthodontic issues, delivering accurate results that can last a lifetime.
Easier to maintain – Throughout your treatment, you'll only need to visit your dentist every four to six weeks to pick up your next set of aligners. These appointments will be short enough to squeeze into a lunch break. That way, you won't need to take a day off to get your braces tightened and deal with the intense discomfort afterward.
Who Should Get SureSmile?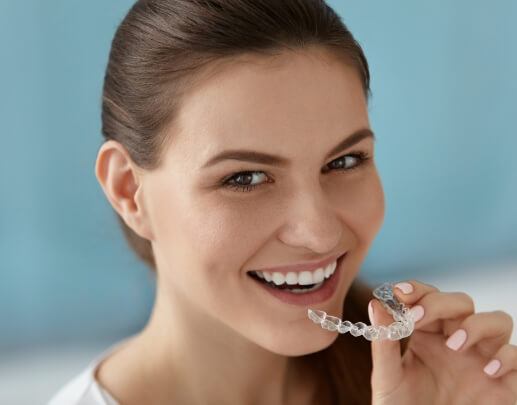 You might be a good candidate for SureSmile if you're looking to fix the following issues:
Gaps between teeth
Crowded teeth
Misaligned teeth
Mild bite problems
The best way to learn whether you're a good candidate is to schedule a consultation. We'll inspect your oral health and be able to answer any additional questions you have about the process. Our team of dental professionals is excited to help you transform your smile!