Tooth-Colored Fillings – Annapolis, MD
Aesthetically Pleasing Cavity Treatment
Tooth-colored fillings are used to repair teeth that have been damaged through mild to moderate decay or injury. Our knowledgeable dentists may recommend tooth-colored fillings in our Annapolis, MD dental office if the damage is not extensive enough to warrant the use of a dental crown; we strive to provide the most conservative restoration possible to keep your smile healthy. Tooth-colored fillings, which are also known as white fillings or composite fillings, are made using composite resin. Composite resin is a durable, tooth-colored material that helps to restore and fortify the damaged tooth. Dr. Chambers, Dr. Shaya, and Dr. Jimenez will match the shade of the composite resin to your natural tooth color to provide you with aesthetic, natural-looking results.
Why Choose Chambers Family Dentistry for Tooth-Colored Fillings?
Caring for Annapolis Smiles for Over 30 Years
Same-Day Appointments for Dental Emergencies
Relaxing Dental Sedation Available
Tooth-Colored Fillings Process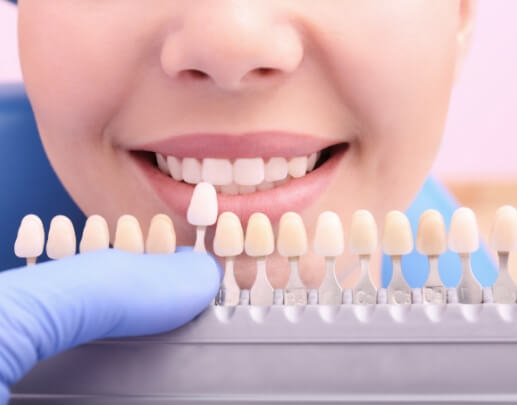 To place the filling, our dentists will:
Remove the decayed or damaged portion of the tooth
Thoroughly clean the tooth
Fill the tooth with composite resin
Carefully shape and polish the filling to perfectly fit your smile and bite
Harden the filling using a special light
White fillings in Annapolis, Maryland can be completed in just one visit to Chambers Family Dentistry. When in place, the tooth-colored filling can actually strengthen your tooth and help to prevent future decay. For more information on the advantages of tooth-colored dental fillings, we invite you to contact us today.