Dental Bridges – Annapolis, MD
Seamlessly Fill Your Grin's Gaps
Bridges are a type of tooth replacement that can effectively restore the function and beauty of your smile. A dental bridge is composed of one or more artificial teeth that are supported by dental crowns, which are placed on the teeth or dental implants adjacent to the gap. Keep reading to learn more about dental bridges from our Annapolis, MD dentist.
Why Choose Chambers Family Dentistry for Dental Bridges?
Bridges Made from Natural-Looking, Durable Porcelain
We Treat Patients Like Old Friends
Fast, Efficient Dental Appointments
When Do I Need a Dental Bridge?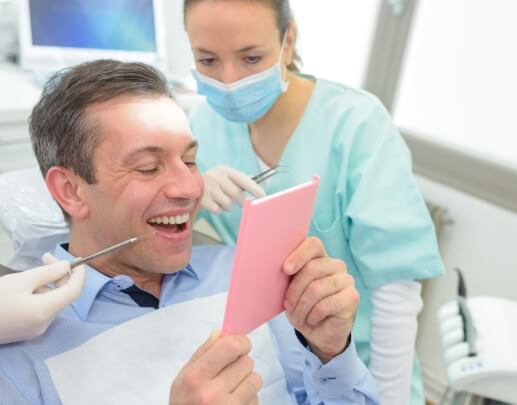 Our dentists may suggest a dental bridge in order to:
Prevent other teeth from shifting in the mouth
Improve facial volume and appearance
Restore your ability to chew and eat
Enhance the beauty of your smile
Your custom-made bridge will fit your mouth comfortably and beautifully restore your smile. Please call us at Chambers Family Dentistry today to learn more about dental bridges and our other tooth replacement options. We look forward to improving your oral health!