Dental Sealants & Fluoride Treatment – Annapolis, MD
Quick, Effective Ways to Fight Cavities
Your teeth could always use an extra bit of protection, right? Well, that's exactly what dental sealants and fluoride treatments from our Annapolis, MD dentist provide. These quick and easy services are just two more ways we can help you fight and prevent tooth decay and cavities.
Why Choose Chambers Family Dentistry for Dental Sealants & Fluoride Treatment?
Privately-Owned Dental Office
Trusted by Annapolis Families for 30+ Years
In-Network with Many Leading Insurance Plans
What Are Dental Sealants?
A dental sealant is a clear, thin layer of composite resin that is applied to the teeth to protect them from plaque and bacteria. Most of the time, sealants only need to be applied to the back teeth because they have so many small and hard-to-reach surfaces. Dental sealants are an ideal treatment for children who are still learning to brush and adults who are prone to developing cavities.
What is Fluoride Treatment?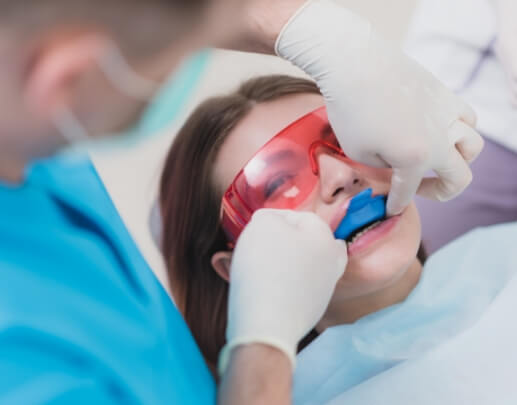 As part of your regular checkup, you'll also receive fluoride treatment. Fluoride is a naturally occurring mineral, and when it is ingested (whether in food or water), it actually replenishes the minerals in your teeth that are stripped away by plaque. This is why you'll typically see it in toothpaste and public water sources. You'll simply swish a highly concentrated fluoride solution in your mouth for a few minutes, and that's it!
Both of these treatments are fantastic for protecting and strengthening your teeth. If you have any questions, contact our dental office today.