Children's Dentistry – Annapolis, MD
Setting Kids on the Path to Optimal Oral Health
Our talented dentists at Chambers Family Dentistry are dedicated to serving your entire family with comprehensive dental care, and we extend a special welcome to our young patients! Good dental health begins during childhood. Our dentists and dental team are friendly and gentle, so your child will feel calm and at ease during their visit to our dental office. We offer many pediatric dental services, including sealants and fluoride treatments, as well as routine cleanings and exams to help your child maintain good oral health. We invite you to call us today to learn more about pediatric dentistry and to schedule your child's appointment for children's dentistry in Annapolis, MD!
Why Choose Chambers Family Dentistry for Children's Dentistry?
In-House Pediatric Dentist
Trusted by Annapolis Families for Three Decades
Warm & Cozy Dental Office
When Do I First Take My Child to the Dentist?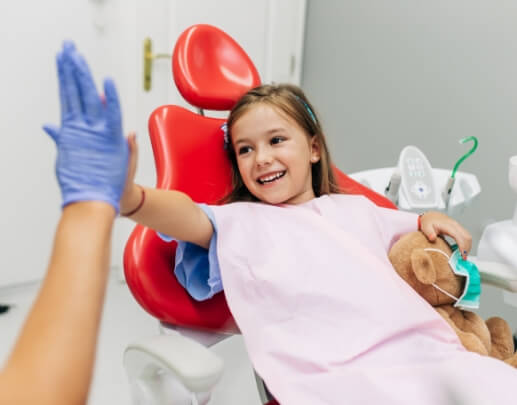 When it comes to caring for the oral health of children, most of our goals are the same as when we provide adult dental care. However, there are a few things we like to keep in mind when welcoming younger patients to our Annapolis, MD dental office, including:
Paying special attention to developing dental structures to provide intervention and correction at the earliest stages
Monitoring the development of dental alignment and developing dental structures to prevent oral health concerns before they begin
Offering unique treatment experiences to meet your child's behavior needs and ensure complete safety and comfort during treatments
Taking extra time to answer questions and ensure your little ones understand their treatments in order to prevent undue fear or anxiety
Overall, our goal is to make visiting the dentist something your child will look forward to rather than something they will dread. Too many adults point toward bad experiences in their youth as the reason they neglect dental visits, and our goal is to reduce that number in the current generation.
We are pleased to offer the following services to help your child's smile grow and develop:
Dental Checkups & Teeth Cleanings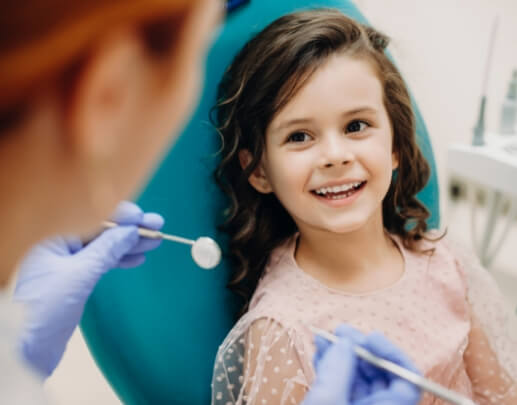 It is recommended that your child see us every six months for regular dental checkups and cleanings. Of course, it's not just our team that encourages these twice-yearly visits. The American Academy of Pediatric Dentistry also recommends it! Because young teeth are often more prone to cavity formations and tooth decay, it is important that we put your child on the right path when it comes to their oral health.
By establishing a schedule of regular visits to the dentist's office, you can encourage your little one to get excited about oral health and remind them of the importance of a clean and healthy smile. Not only do these visits allow our team to get to know your child and build a relationship, but it also gives us the opportunity to check for any problem areas that may be developing. No matter if we find signs of tooth decay, gum disease, or a bite alignment issue, we will administer a thorough dental cleaning to remove plaque and tartar accumulations around the teeth and gumline and give their smile a polish to leave them feeling clean and refreshed.
Learn More About Dental Checkups & Cleanings for Kids
Dental Sealants
Your child's molars and premolars can be difficult to clean, especially when novice brushing skills make it hard to reach these areas. These teeth have a multitude of pits and grooves that can easily trap food particles and bad bacteria. If left untreated, it can turn into plaque and eat away at the tooth enamel, resulting in cavities. To better protect these teeth, your child's dentist in Annapolis can apply dental sealants. This is a clear, thin layer of composite resin that is painted over the chewing surfaces of the molars and premolars, creating a barrier between the tooth enamel and harmful bacteria that can cause decay.
Not only is the process completely painless and easy to administer, but sealants can last a decade or more with proper care.
Fluoride Treatments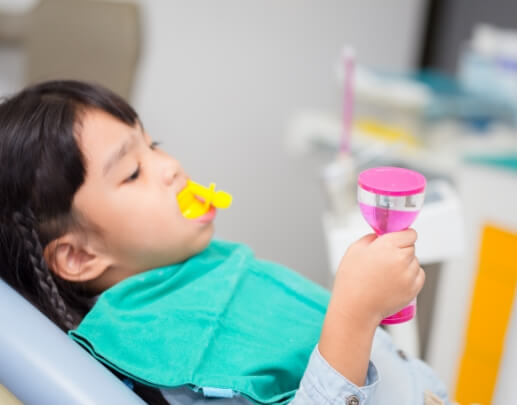 As part of the regular checkup and cleaning, we can offer a fluoride treatment to help better protect your child's teeth from decay and strengthen their tooth enamel. Much like dental sealants create a barrier around your child's back teeth, fluoride protects all their teeth! This beneficial, natural mineral is often found in toothpaste and tap water; however, because young smiles often require additional help to combat tooth decay and cavities, these fluoride treatments can be applied during one of their six-month visits.
When your child is old enough, we can provide them with a cup of highly-concentrated fluoride to swish around in their mouth. Once they spit it out, their teeth will remain better protected between appointments.
Tooth-Colored Fillings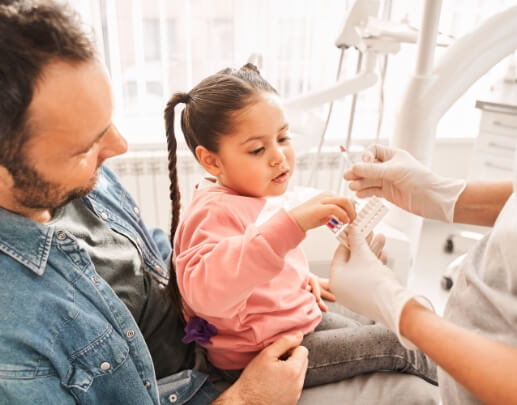 Should a cavity form and require dental work to fix, your child can feel confident about their new appearance because of the decision to use composite resin to fill these decayed teeth. Instead of relying on traditional amalgam (gold or silver), we use tooth-colored fillings that are color-matched with your child's natural tooth color. Not only does this make it possible for your little one to keep more of their natural tooth structure, but it also blends in seamlessly with the rest of their smile, leaving them with a beautiful appearance and dental work that cannot be detected by others.
Teething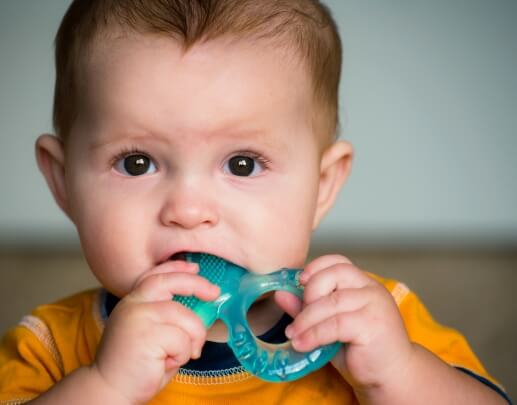 Although teething is a regular process all children must go through, it doesn't make it easy. As teeth attempt to push through the gums, it can cause your child to be uncomfortable and in pain. To help you through this process, which can last until they're 3 years old, our team can offer tips and suggestions on ways to make teething less painful for you and your child. Whether it is providing them with a teething toy to chew on or using a clean finger to gently massage their gums, you will find that these tips will not only help your little one feel better, but they will also help you rest easier!
Non-Nutritive Habits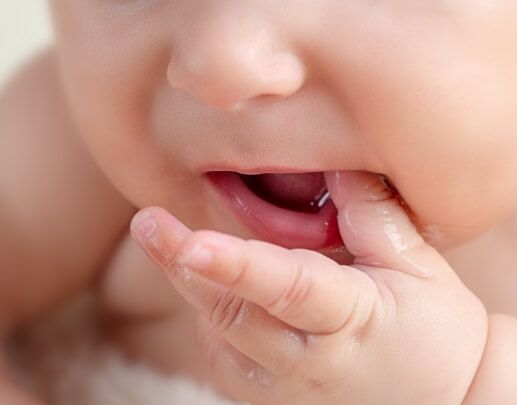 Thumb-sucking and pacifier use for a child are normal; however, over time, these "comfort" tricks can quickly morph into bad habits and negatively impact their teeth and bite alignment. Our team can help your child break these habits as well as provide you, the parent, with helpful tips and tricks to encourage positive reinforcement. If your little one is struggling to say goodbye to the pacifier or doesn't want to forgo the comfort of sucking their thumb while sleeping, let us help you navigate this process and prevent your child's oral health from being negatively impacted.